Your mini storage box will be ready to go the next day after you make an appointment within just a few clicks.
Your boxes will be collected and stored at our central warehouse.
Manage or review your boxes/photos via our web portal or mobile application, making appointment anytime when you need them.
Need Extra Storage Space in Hong Kong? Look No Further
About Our Mini Storage Service
Chubbox is more than just storage. We're about creating a lifestyle where space isn't luxury – it's flexible and right at your fingertips. Chubbox was founded on the belief that storage should be simple, affordable, and secure.
We created a service that allows you to store and seamlessly manage your belongings from your computer or mobile device, and know that they're just a speedy delivery away. Your home is for living and we give you the freedom to de-clutter while keeping the things that matter.
Our difference when it comes to extra storage space
Whether you're moving house, storing out of season clothes, or making space for a new family member, Chubbox is here to make things easier for you.
DOCUMENT BOX
45CM(L) X 34CM(W) X 25CM(H)
MAX 15KG
HK$20.0
box/month
STANDARD BOX
(OUTSIDE)
64CM(L) X 40CM(W) X 35CM(H)
(INSIDE)
60CM(L) X 35CM(W) X 30CM(H)
MAX 25KG
HK$39.0
box/month
MEGA BOX
(OUTSIDE)
73.5CM(L) X 45.5CM(W) X 39CM(H)
(INSIDE)
68CM(L) X 40CM(W) X 34CM(H)
MAX 25KG
HK$55.0
box/month
MEDIUM LUGGAGE
24-27 INCHES
MAX 25KG
(LUGGAGE:PROVIDED BY THE CUSTOMER)
HK$49.0
box/month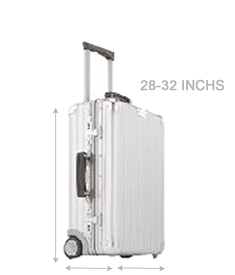 LARGE LUGGAGE
28-32 INCHES
MAX 25KG
(LUGGAGE:PROVIDED BY THE CUSTOMER)
HK$65.0
box/month
WARDROBE BOX
50CM(L) X 50CM(W) X 100CM(H)
MAX 25kg
HK$99.0
box/month
Mini Storage Security
24 / 7 Surveillance
24-hour CCTV, manned security and restricted public access
Direct Pickups and Deliveries
Professional moving team picks up and delivers directly to and from our facility
Climate Controlled Facility
Temperature and humidity-controlled with fire protection systems
Free Insurance
Every box comes with free insurance that insures up to HK$2,500
If you are ready to free up space in your life and get the room back for more important things, please do not hesitate to contact a Chubbox Hong Kong representative with your questions. We will be more than happy to help you organize your life with a mini storage box – the cost-effective and easy solution to your excess things.